Accelerating your business outcomes with comprehensive solutions from edge to cloud.
HPE is the global edge-to-cloud company built to transform your business. How? By helping you connect, protect, analyze, and act on all your data and applications wherever they live, from edge to cloud, so you can turn insights into outcomes at the speed required to thrive in today's complex world.
---
The Foundation
Bill Hewlett and Dave Packard became friends at Stanford University before forming a two-person company in a rented garage—the original Silicon Valley startup. Working with limited resources, the pair created a series of products—starting with audio oscillators used by sound engineers—sometimes using the Packard family oven to put on finishing touches. Their efforts impressed Walt Disney Studios, one of our early customers, and set the course for a legacy of innovation and leadership.
---
The History
The history of Hewlett-Packard Enterprise is intertwined with the history of Silicon Valley—a fertile stretch of land north of San Jose, California. Today the area is known worldwide as a center for innovation, where companies have changed the world through technological advances. But when Bill Hewlett and Dave Packard met in the 1930s at Stanford University, the valley was largely agricultural, with orchards and farms dotting the hills. Bill and Dave's success transformed the landscape and the culture of the area, so much so that the small garage on Addison Avenue in Palo Alto where the two first cemented their partnership has been designated a historical landmark, the "Birthplace of Silicon Valley.

---
Why HPE?
HPE helps you transform and run your digital business by enabling you to connect, protect, analyze and act on all your data, from edge to cloud. No matter where you are on your transformation journey, HPE are ready to help solve your most pressing data and IT challenges.
---
Innovative edge-to-cloud solutions
The spirit of innovation at HPE is stronger than ever with a technology portfolio that includes:
• The cloud that comes to you
• Software that shortens ML deployments from months to minutes
• 41 out of the top 100 fastest supercomputers
• Edge networking connecting 10M devices globally
• The world's most secure industry-standard servers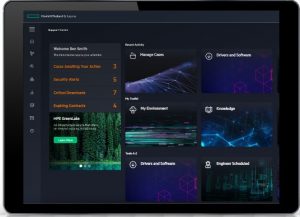 ---
Expertise to accelerate your digital transformation
With deep industry vertical expertise and a rich partner ecosystem, HPE is uniquely capable to accelerate your digital transformation and help you stay ahead of what's next.
---
The HPE global professional services and support teams are helping customers:
• Capitalize on the opportunity of AI at the edge
• Implement a cloud experience across all applications and data
• Modernize legacy IT environments
• Deploy next-generation 5G networks
---